Are you looking for the best handicap bathroom accessories that will help your loved one live more comfortably in their home? If so, this blog post is what you need.
Anyone who has ever worked with or cared for a person with disabilities knows how difficult it can be to adapt the home to their needs. For many people with disabilities, even mundane everyday tasks like taking a shower can be daunting if they don't have the right equipment.
Maneuvering is especially true in the bathroom, where several obstacles prevent someone from taking a proper bath or shower.
If you are caring for a loved one with special needs, it's essential to know about the different types of handicapped bathroom accessories available to make their life a little easier. Here are some of the most common items:
---
Bath Lift for Tub
A bath lift is a device that helps someone with limited mobility get in and out of the bathtub.
It typically consists of a platform on the edge of the tub, with a motorized chair lowers the person into the water and then raises them back out.
Enjoy using a bath again.
---
Bathtub Rails:
Bathtub rails are sturdy bars attached to the bathtub's edge to provide a handhold for someone with difficulty standing up or walking.
---
Shower Chairs
A shower chair is a seat placed in the shower to provide stability and support for someone having difficulty sitting down or standing up.
Shower Stools
Shower stools are stools designed to be used in the shower so someone can sit down, either for shaving their legs or washing their hair.
---
Shower Rails
Shower bars are sturdy rails that can be attached to a shower stall wall. They provide a place to hold on when standing up in the shower, so even limited mobility is not an obstacle.
---
Handheld Shower Head
A handheld showerhead is a fixed shower head that can be removed from the wall and used as a portable hose to wash down someone's body.
A handheld showerhead allows the user to take a traditional bath or shower by detaching from its fixed mount and directing water at specific targets in the tub or stall. This type of showerhead makes it easier for someone sitting down to wash their body, especially the parts that are difficult to reach.
---
Transfer Benches
A transfer bench is a flat platform with raised edges on either end placed in a bathtub or shower stall so someone with limited mobility can sit down on it, get in the shower, and then push themselves up to stand.
---
Handicap Bathroom Accessories: Grab Bars
Install grab bars in the bathroom to provide a secure handhold for someone having difficulty walking, standing, or climbing into the tub. Follow the ADA standards when installing grab bars.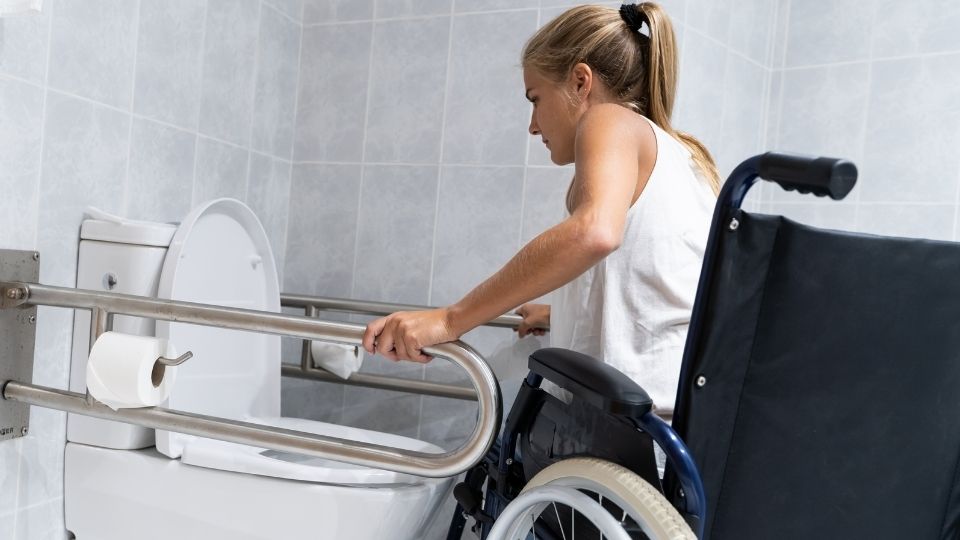 ---
Touchless Soap Dispensers
A touchless soap dispenser is a device that dispenses soap without the need to touch it.
An automatic soap dispenser is an excellent option for people with limited mobility.
---
Shower Caddy for the Handicap Bathroom
Many storage solutions are available for the bathroom to help make everyday tasks easier, whether you're caring for a loved one or want to keep your shower accessories organized. Some storage options include:
Suction cup baskets:
Suction cup baskets attach to the bathtub or shower wall and provide an easy way to store things out of reach without cluttering up your countertops.
Shower hooks for loofahs and scrubbers: Shower hooks are a great way to keep your loofahs and scrubbers off of the shower floor and within reach.
Hanging caddy:
A hanging caddy is a storage solution that hangs from the showerhead and provides a place to store shampoo, conditioner, soap, and other shower accessories.
---
Shampoo Dispenser for Shower Wall:
A shampoo dispenser is a container that attaches to the shower wall and dispenses shampoo or soap without the need for touch. Some of these units also double as washcloth holders.
---
Safety Treads for Shower Floor
If you are caring for a loved one who is unsteady on their feet, it's a good idea to put safety treads on the floor of the shower. Safety threads will help them keep their balance while showering and keep them from slipping.
---
Raised Toilet Seat
A raised toilet seat is a great way to make it easier for someone with mobility issues to use the toilet. It typically raises the seat's height by several inches, making it easier for the person to get on and off.
Toilet Seat Cushion
A toilet seat cushion is a foam pad that sits on top of the toilet seat. It provides extra cushioning for somebody who has difficulty sitting down or standing back up due to pressure or pain.
---
Medical Alert Call Button
If you are caring for a loved one with special needs, it's essential to have a medical alert call button in the bathroom in case of an emergency.
Alert devices are small devices that can be worn around the neck or wrist and can call for help if the person falls or has another type of emergency.
---
Long Reach Comfort Wipes
Long reach comfort wipes are moist towelettes that make cleaning a long way from the body easier. They're great for people who have difficulty reaching their backside, whether due to injury, arthritis, or another issue.
---
Handicap Bathroom Accessories: Diaper Pail
A diaper pail is a container that holds dirty diapers. A diaper pail with an odor-eliminating system makes it easier to keep your bathroom smelling fresh!
---
Bidet Toilet Seat
A bidet toilet seat provides a steady stream of water that allows you to clean up your bottom. It's excellent for individuals who have had surgery or are having issues with bowel control and can also help reduce the risk of infections in the genital area.
---
Offset Hinges to Widen Doorway
If your bathroom is tight on space, you may want to consider installing offset hinges to widen the doorway. Offset hinges will give you a few extra inches of doorway space so that you can move more quickly in and out of the room.
---
Motion Sensor Night Lights
Motion sensor night lights are a great way to light up the pathway to the bathroom at night without having to fumble for a light switch. They come in various styles, so you can choose one that best suits your needs.
---
Long Handle Body Brush – Scrubber
A long handle body brush – scrubber is a great way to get a deep clean in those hard-to-reach places. The long handle makes it easy to reach all areas of your body, while the soft bristles help to remove dirt and dead skin cells.
---
Handicap Bathroom Accessories: Towel Warmer
A towel warmer is a great way to dry and warm your towels after you've turned on the shower. It will help to keep your bathroom feeling warm and toasty, especially in the winter months.
---
Bathroom Robe Hooks
Bathroom robe hooks are a great way to keep your bathrobe and other clothes within reach while you're taking a shower. Mount the robe hooks on the wall or door of the bathroom for easy access.
---
Wall Mounted Makeup Mirror
A wall-mounted makeup mirror is a convenient way to check your appearance before you head out the door. It's also great for those who have difficulty bending or reaching to use a handheld mirror.
---
Handicap Bathroom Accessories: Alexa Device
If you're looking for a way to make your bathroom even more convenient, consider installing an Alexa device. This voice-activated assistant can control various aspects of the bathroom, from turning on the lights to playing music.
---
Oil Diffuser for Aromatherapy
An oil diffuser for aromatherapy is a great way to enjoy nice-smelling fragrances throughout the bathroom. Essential oils are distilled from natural sources, making them safe and effective for use around the home.
---
Final Thoughts on Handicap Bathroom Accessories
There are many different accessories that you can add to your handicapped bathroom to make it more comfortable and convenient. Whether you need a raised toilet seat, a toilet seat cushion, a medical alert call button, or something else, there is sure to be an accessory that fits your needs. So don't hesitate to ask your healthcare provider for suggestions.
You can also go online and search for more information on different models of showers and other equipment that might be suitable for your needs.
Taking a bath or shower can become a much easier task for everyone involved with the right equipment. If you love techy new products, watch the video below for some innovative ideas.
---
Video: Take a Peek at Some Fun Innovative Bathroom Accessories for the Person Who Has Everything
There are many different accessories that you can add to your handicapped bathroom. From toilet seats with handles for people who have difficulty sitting down to grab bars and handrails for those who may need assistance when standing up from the toilet or getting in and out of a bathtub, there is something on this list for everyone! You can find most items online at varying prices.
Which accessory would make things most accessible in your home?