After a long hard day of work, the luxury bathroom becomes a sanctuary. It provides plenty of space to relax while soaking in a walk-in tub and viewing a fireplace that offers warmth and relaxation. Here are some Design Ideas for a Luxury Handicap Bathroom.
When choosing a luxury handicap bathroom, think about what will make you feel comfortable and pampered. Then, with a few thoughtful additions, you can create a perfect space for your needs.
Creating a handicapped bathroom that is both luxurious and accessible can be a challenge. However, you can achieve a luxury bathroom with creativity and helpful tips. First, design and remodel your bathroom into a handicapped luxury bathroom by following the ADA guidelines and adding the luxury amenities.
---
What makes a bathroom luxurious and accessible?
The answer is multifaceted. Luxury, in terms of handicapped bathrooms, means different things to different people. For example, some disabled people appreciate having an extra-large room with special lighting for their makeup application. Some others want a shower big enough so they can sit down inside it.
On the other hand, accessibility means ensuring that everything in the bathroom is within reach for someone in a wheelchair. Accessibility features might include installing a roll-in shower and using lever-style faucets and door handles.
Consider these factors when creating your wish list for your luxury handicap bathroom.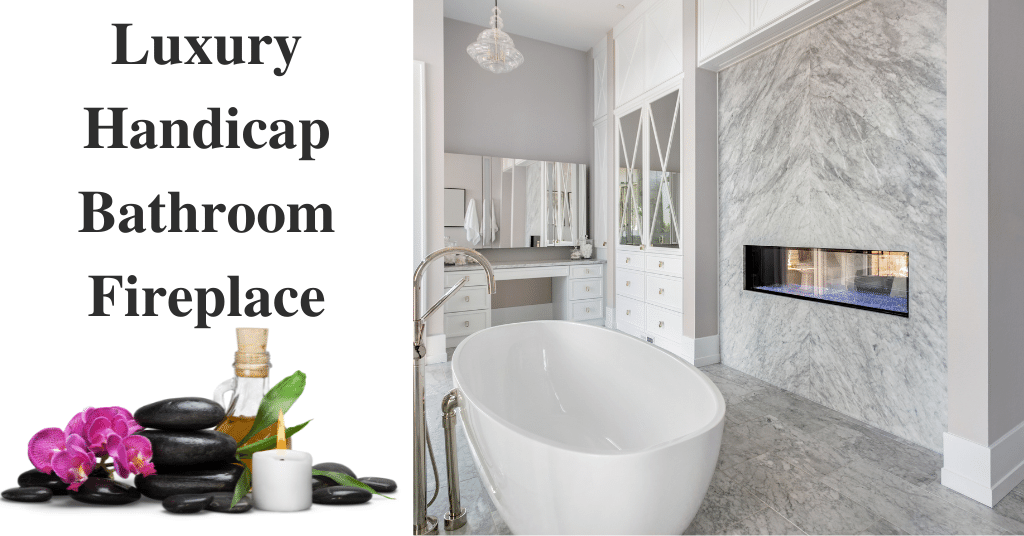 ---
Features to Include in a Luxury Handicap Bathroom
Heated toilet with automatic lid raiser
Bidet
Vessel sink
Warming drawer for towels
Massage water jets
Ceramic tiles
Granite top
Paint
Mural
Wall-mounted fireplace
Walk-in Tub
Lever Door Handles
---
Walk-in Tubs for Your Luxury Handicap Bathroom
Walk-in tubs are a popular feature in luxury handicap bathrooms. They provide a safe and comfortable way for those with mobility issues to enjoy a relaxing bath. There are many different walk-in tubs on the market, so be sure to do your research before purchasing.
Some features that you may want to consider include:
Soaking tubs: These deep tubs are perfect for a relaxing soak. Many come with massage jets to help soothe tired muscles.
Heated seats: A heated seat can be a real luxury in a cold bathroom. It will keep you warm and comfortable while you bathe.
Dual drains: Dual drains help speed up the draining process so that you can get back to your day faster.
---
Showers Ideas for a Luxury Handicap Bathroom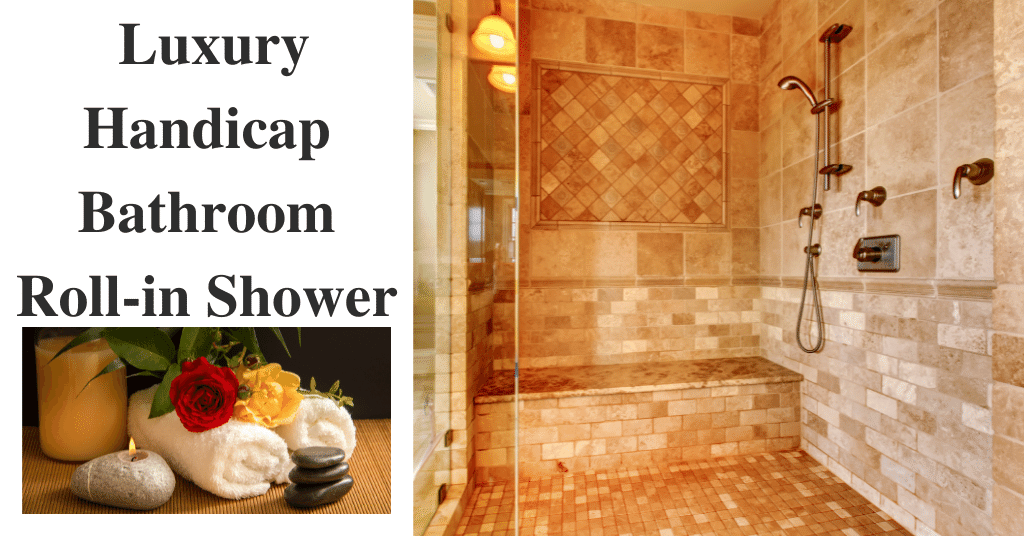 A shower is another essential feature of a luxury handicap bathroom. A bathroom shower is an excellent alternative to a bathtub if you cannot stand for long periods. It is also a good option if you have limited mobility.
Handles and faucets: How easy is it to operate the shower handles and faucets? Choose a model that is easy to use for everyone in your family.
A walk-in or roll-in shower with a large bathing area is the best choice for accessibility. It should have a transfer bench, safety grab bars, and a handheld showerhead. The faucets should be easy to turn on and off and adjust the water temperature.
Install water massage jets in the shower. Use decorative ceramic tiles on the walls and floor of the shower to create an artistic look in the bathroom.
If you are installing a roll-in shower, make sure that it has plenty of space for maneuvering. A 36-inch by 36-inch area is a good minimum size. It should also be deep enough so that you can sit on a shower chair or transfer to a bathtub if needed.
---
Flooring for Your Luxury Handicap Bathroom
The floor should be non-slip and free of cracks, gaps, and other hazards. For safety, it should ideally have an anti-skid finish.
Several kinds of flooring materials are available for use in luxury handicap bathrooms. For example, vinyl floor tiles are easy to install and maintain. They also provide good traction.
---
Steam Rooms for a Luxury Handicap Bathroom
Steam showers are another popular feature in luxury handicap bathrooms. They allow you to relax and unwind while enjoying the therapeutic benefits of steam.
---
Make Use of Universal Design Principles
Universal design principles are essential when creating a luxury handicap bathroom. These principles consider the needs of people in a variety of ways to make the bathroom accessible for everyone.
Some of the most important universal design principles include:
Elimination of barriers, such as steps or narrow doorways
Flexibility in design so that people in a variety of situations can use the bathroom
Use of color and contrast to improve visibility
Equipping the bathroom with features that people with a range of abilities can use
When designing your luxury handicap bathroom, be sure to keep these principles in mind. They will help to create a bathroom that is both accessible and luxurious.
---
Steps to Designing a Luxury Handicap Bathroom
1. Start by choosing an ample, open space for the bathroom.
2. Install a large, walk-in shower with a bench and a handheld showerhead.
3. Include a heated towel rack to keep towels warm and cozy.
4. Install a wall-mounted sink that is easy to reach from a wheelchair.
5. As with all bathrooms, keep the floor tile simple and easy to clean.
6. Add a few luxury items like a spa tub or showerhead to make it even more special.
7. For help planning your new bathroom, contact an architectural firm specializing in accessible design. Then, you can create a handicapped bathroom that feels like a luxury with its use.
8. Include plenty of natural light and mirrors for those who might need assistance applying makeup or other toiletries.
---
Luxury Handicapped Bathroom Light Fixtures
The best-handicapped bathroom light fixtures would be those that people can quickly turn on and off without having to fumble with switches.
The use of motion sensors is always a good idea.
Having a switch that is easily accessible by someone in one's hand or using their toes is another idea that could work well, especially if the person has an amputation, arthritis, etc.
The lights should ideally be bright enough to offer enough light for the person to groom themselves and some luxury bathroom lights can even provide added features like heating to be more comfortable.
There are a variety of styles and types of light fixtures available for a handicapped bathroom. So it is vital to take the time to find the right ones that will make the experience as comfortable as possible for those who need it.
---
Custom Designed Vanities
Design and install a long vanity that includes his and her sinks. Vanity with dual sinks will keep couples happy. It is easy for both partners to get ready simultaneously and saves time in the morning before work or school.
Use a granite top with an ogee edge.
Install a faucet with an automatic sensor for turning the water on.
Install a warming drawer in the vanity to provide warm towels.
Provide an open area under the sink to access with a wheelchair
---
Mirrors
Select a mirror with a decorative frame. Install the mirror above the vanity at an angle that allows a person sitting down to see themselves.
Install a makeup mirror with a swing arm next to the vanity at about 42 inches.
---
Wall Finishes for a Luxury Handicap Bathroom
Paint the bathroom walls with water-inspired hues of color. Use soft and relaxing colors, creating a spa in your own home. Avoid bright, bold colors or trendy colors.
Install a mural of a tropical beach along a wall near the tub.
Hang a few pieces of artwork on the other walls.
Hang a wall-mounted fireplace opposite the tub to view while soaking. A wall-mounted fireplace will keep your bathroom feeling cozy even when it is damp outside.
Place a TV above the fireplace.
---
Add Those Special Decorative Touches
Use luxurious towels for comfort.
Place a vase of fresh flowers on the counter for freshness.
Hang his and her robes.
Use candles for a romantic setting.
One of the most important things to note while planning a bathroom renovation is ensuring handicap access.
Besides the lowered bathroom fixtures, there are also new additions to the design of handicapped bathrooms. Designers have now included whirlpool baths, unique showers with multiple showerheads, and even steam rooms. These new features make it possible for disabled people to enjoy a sense of luxury and relaxation in their bathrooms.
---
Video: Kohler – Accessible Bathroom Solutions