A handicapped bathroom remodel will help you achieve aging in place. So many people are now choosing to age in place so that they can be close to friends and family, the homes where we spent our lives contain memories of a lifetime. Why would anyone want to leave? Renovating your home for accessibility provides many benefits, including peace of mind knowing everything is set up for an effortless mobility experience if necessary.
Remodeling your bathroom to be handicap accessible will help you age in place. Plan the remodel on the main level of your home, where the room will be centrally located and more convenient for family members or caretakers to check up on you. You'll also be able to live in your home for longer because you won't have to move into an assisted living or nursing facility.
Some ways you can start planning and remodeling to age in place include accessible bathroom features. Here are some ideas: 
---
Shower Tips for Your Handicapped Bathroom Remodel
Install a shower with no threshold. Some showers come with a removable threshold that quickly adapts to a roll-in shower.
Install grab bars for support while bathing.
Replace your shower door with a shower curtain. A sliding glass or pocket door can become hard to open and close over time, so look for something more manageable like a shower curtain instead.
Here are a few more tips:
Plan to use a shower chair in the shower.
Place a light in the shower.
Mount the faucet controls offset from the center.
Install a hand-held shower head with a grab bar.
---
Toilet Tips for Your Handicapped Bathroom Remodel
Install grab bars on the wall near the toilet for support if needed. A handicapped bathroom remodels something that you can do to stay in your home as long as possible without relying on others to help take care of you.
Installing a wall-mounted toilet raised off the ground is always a good idea. Ask your plumber to move your toilet to be mounted on the wall. Raising it higher off the ground makes it easier to get on and off the commode.
You can also choose an ADA-compliant option, which means it meets the minimum height requirements (17″ to 19″) for a handicapped bathroom in your home.
Replace your toilet with a low-flow model; this will help you save money and energy.
Quick & Easy Tip: Use portable bathroom toilet safety rails to provide an accessible toilet to your existing toilet.
---
Install Blocking in Walls for Grab Bars
Reinforce the walls by installing blocking for extra support around the toilet, shower, and tub. The blocking will allow you to install grab bars and shower bars where needed in the bathroom.
To add blocking in walls, you will need to remove the existing drywall and add a layer of the backer board. Next, install your grab bars and shower bars once the backer board is in place. The backer board will provide a sturdy surface for you to hold onto while using the bathroom.
---
Handicapped Bathroom Remodel: Sink & Faucets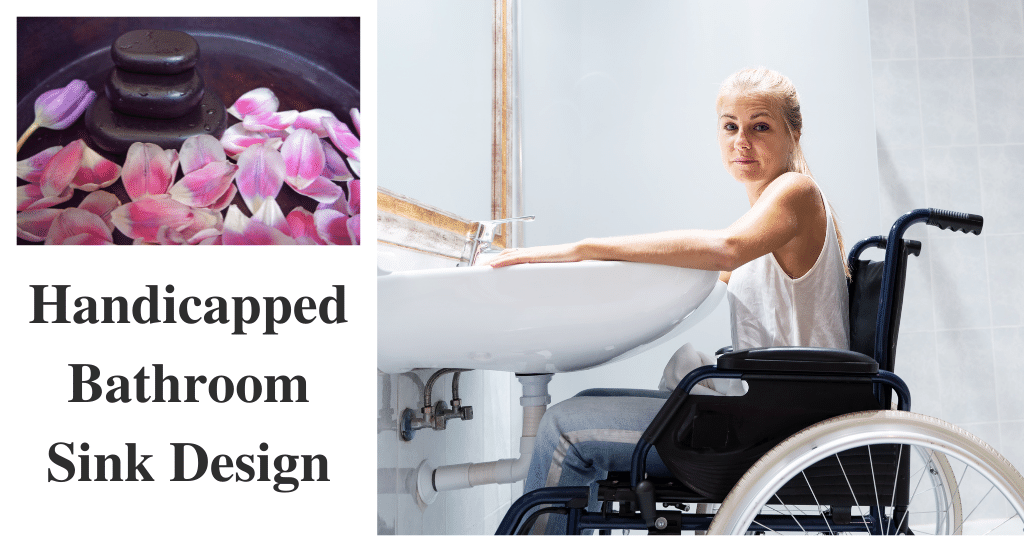 ---
Install a sink that is easy to access. Include a single lever faucet, which makes it easier for people with limited dexterity or strength in their hands.
You may also want to choose a deep basin sink, so you don't have to stretch as far when washing your hands or brushing your teeth.
Select and install lever-style faucets or a touch-less faucet that is easy to use.
Offset the controls for the faucet from the center of the sink. Offset handles will make it easier for you to reach them while washing your hands or brushing your teeth.
Install an anti-scald valve in the shower, tub, and vanity faucet.
---
Custom Cabinetry for a Handicapped Bathroom
Cabinetry for a handicapped bathroom should have soft-close drawers and doors. Soft close drawers will allow you to close the drawers quickly without having to worry about them slamming shut or catching on to something.
Install a pull-out pantry that is easy for you to access while standing or sitting using retractable hardware so it can access whenever needed but stored away when not in use. For example, the pull-out shelves would be a great way to store your lotions, shaves, and other items that you use in the bathroom.
Place the counter at a height that is accessible from a sitting position. Wall cabinets are typically mounted much higher up and can make reaching items difficult. Have your contractor lower the cabinets or remove doors from some, so they do not get in your way.
Place towel bars lower than usual, so they are easy for someone in a wheelchair or using crutches to reach if needed.
---
Select Floors for Safety and Warmth
For a handicap bathroom remodel, choose a slip-resistant floor.
Install non-slip adhesive strips on the bottom of your bathtub or tub, so you don't have to worry about falling while getting in and out.
Place grab bars next to any slippery surfaces, including showers lined with tile or marble, so it will be easy for you to hold onto something while you are wet.
Install in-floor heat systems in the bathroom to keep your feet warm.
Create enough clear floor space in the bathroom for a wheelchair to maneuver. Allow a 60-inch turning area of clear space in the bathroom.
Avoid using throw rugs.
---
Luxury Walk-in Tubs for Your Handicap Bathroom Remodel
If you want to add a walk-in tub into your handicap bathroom remodel, this will give you access in and out of the shower. This type of bathtub is either fiberglass or acrylic materials, which do not need additional installation like tile floors.
The benefits of installing a walk-in tub are:
You can bathe without assistance
The tub has a hinged door that swings open and closed, so you don't have to worry about climbing in or out of it.
They come with various therapeutic features like whirlpool jets and air bubbles.
There is plenty of space for someone who uses a wheelchair to get in and out of the tub.
A seat inside provides back and neck support to help you relax while taking your bath.
---
Handicap Bathroom Remodel: Widen Doors for Wheelchair Access
Wheelchairs need room to maneuver in and out of the bathroom. Widen all doors for wheelchair access, so you don't have to worry about bumping into a door frame or getting stuck in a doorway.
Widen the doors to allow wheelchair access. Allow 36 inches for the door width. If the door is too narrow, you will need to remove the door and install a wider one.
Quick & Easy Tip: Use an offset hinge to widen a door without rebuilding the door frame quickly.
---
Handicap Bathroom Remodel: Electrical and Lighting
Allow a clear space in front of the light switches and electrical outlets.  
Install lighted switches to see what you are doing when it is dark. For example, use a rocker style or touch sensor light switch. Another choice is to use a voice-controlled device such as an Alexa product.
Place an automatic sensor nightlight in the bathroom.
Place the electrical outlets 15 inches above the floor.
Install task lighting next to the mirror and above the sink.
---
Handicap Bathroom Remodel: Countertops
Select a countertop with a low edge, so you don't have to bend down when using it. Choose the best countertop material that you can afford. Use rounded edges and corners on your countertop.
Install a backsplash to prevent water from getting on the walls.
---
Install Motorized Window Shades
Consider installing a motorized shade or curtain so you can open and close it with the touch of a button. The motorized shades will make it easier for you to get light and privacy in the bathroom when needed. Allow plenty of light in the bathroom.
Install windows that open quickly from a seated or standing position. Easy to reach windows will allow you to get fresh air into the bathroom without having to struggle.
---
Conclusion
Remodeling a handicapped bathroom will help you to age in place. Plan the bathroom to be on the main level of your home. The money you spend on remodeling will be saved by not going into an assisted living or a nursing home.
The bottom line is that by remodeling your bathroom to be handicap accessible, you are making it easier for yourself to live in your home now and in the future. If you have any other questions about remodeling for accessibility, don't hesitate to call a professional who can help guide you through the process.
---
Video: A Handicapped Bathroom Remodel can make a world of difference to a person who wants to stay independent.